Electrical Engineering is another widely opted option for engineering in Canada for international students. With diverse prospects and numerous job opportunities, the students have options for 2,3 and 4-year programs to advance their careers.
A degree in Electrical Engineering offers fields of expertise that include communication, electronic materials, power systems, digital systems. Further, the fundamental courses in electrical engineering would also include research and laboratory practices which can prepare a student for numerous fields and diverse career pathways.
Going forward, we would be discussing the various options for students to pursue in domain of electrical Engineering Courses in Canada for International Students.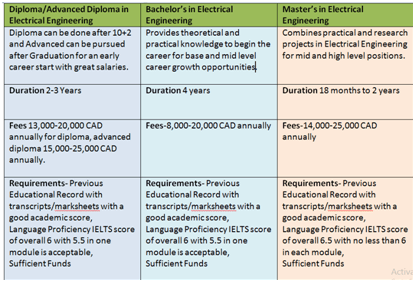 Post Study Work Extension after Electrical Engineering in Canada
As per Canadian immigration there are several work extension options available for students known as PGWP or post graduate work permit. For courses having one year duration similar work permit is allowed whereas for courses with 2 year duration you can get 3 years work permit.
Careers after Electrical Engineering in Canada
Electrical & Telecommunications Contractor
Engineering Inspectors & Regulators
Electrical Engineer
Industrial Engineer
Power Plant Operator
Power Line & Cable engineer
Power systems operator ; and several other career opportunities.
Salaries of Electrical Engineers in Canada
Average salaries in Canada for Electrical Engineers in Canada is  $75,000 per year. For Entry level positions one can earn approximately $42,700 per year while most skilled electrical engineers make up to $117,500 per year.
Still confused about which university or program to choose for studying in Canada? Contact West Highlander your Canada study advisor in Chandigarh. West Highlander is an expert immigration authority with over 15 years of expertise and highest application success rate. Contact us for tailor made free profile assessment to know the best options for studying in Canada at 9915999677.